Peter McEvoy OBE
Great Britain and Ireland (GB&I) has produced a number of distinguished amateur golfers in the post World War II period. Amongst a group that must include Sir Michael Bonallack, Joe Carr and Gary Wolstenholme comfortably sits Peter McEvoy OBE.
One of the most determined and competitive golfers to ever play the game Peter's success was founded on long straight driving, well controlled approach shots (often played low) and impeccable putting. A technically sound golfer with an unflappable temperament will give most people a game – and McEvoy was certainly capable of that.
Early Life
Peter McEvoy was born in London on 22nd March 1953. He was brought up in Renfrewshire, Scotland and swung a club for the first time here with his father, a doctor, and a member of the local club, Gourock, near Greenock.
His family moved to the West Midlands when he was 10 and, aged 13, he joined Copt Heath GC near Solihull. He is an honorary member nowadays and despite moving from Tewkesbury to Troon in 2018 is still seen regularly at the Club.
Playing Highlights
Peter quickly became proficient in the game and won the 1969 Warwickshire Boys Championship. He also won the British Universities Stroke Play in 1973 – he studied Law and qualified as a solicitor – and was selected for England Youths in 1974.
Locally he also went on to win the Warwickshire Amateur Championship in 1974-76-77-80-84, the Warwickshire Matchplay Championship in 1973-75-81-83 and the Warwickshire Open Championship in 1973-74. Warwickshire were also County Champions in 1976 (held locally at Coventry GC) and 1977. Of course, it was not in the Midlands that his legendary reputation was developed.
McEvoy gained national prominence when he won The Amateur Championship in both 1977 (Ganton) and 1978 (Royal Troon). Playing off a +2 handicap at the time he is the last player to successfully defend the title. Horace Hutchinson (1886-87), Harold Hilton (1900-01) Lawson Little (1934-35) and Sir Michael Bonallack (1968-69-70) are the only other players to achieve this feat. He reached the final again in 1987 at Prestwick – driven on by his non-selection for that year's Walker Cup at Sunningdale when the team was announced in November 1986 and the match played in late May – but lost to Welshman Paul Mayo. In total, he competed in 18 Amateur Championships playing 70 matches. He won 54 and lost 16 of these giving him an impressive win rate of 77%.
He was a member of the Great Britain & Ireland (GB&I) Walker Cup team on five occasions – in 1977-79-81-85-89. With business commitments impacting the amount of golf he was able to play he missed out on the 1983 match. McEvoy understood this decision but not his and for that matter Garth McGimpsey's, omission in 1987, just after they had both represented GB&I in the 4-man 1986 Eisenhower Trophy team. He would be the first to admit in later years that he was not unhappy to see the team get thrashed 16.5 – 7.5. His first four Walker Cup matches were lost but the last one, at Peachtree, Atlanta, was won; the first time GB&I had won this historically one-sided contest on US soil. McEvoy contributed 2.5 points in that final game but his overall record was perhaps a little disappointing. He played 18 games in total, winning 5, losing 11 and halving 2. To date, only Sir Michael Bonallack (25), Joe Carr (20) and Gary Wolstenholme (19) have played more Walker Cup games for GB&I.
He played in the St. Andrews Trophy for GB&I against the Continent of Europe in 1978-80-86-88. GB&I won on each occasion in what was then an event as one-sided as The Walker Cup.
Peter also played on five Eisenhower Trophy teams – in 1978-80-84-86-88. In 1988, aged 35, and a year after he hadn't been selected for The Walker Cup he won the World Amateur Individual event and GB&I won the team event for the third time at Ullva, Sweden.
His Amateur wins inevitably led to Major Championship invitations. His strong play also enabled him to qualify for some Opens too. After something of an apprenticeship in 1976 (Royal Birkdale) and 1977 (Turnberry, where he was paired with Jack Nicklaus and Gary Player) he achieved low amateur status at The Open Championship in both 1978 (St. Andrews, 39th) and 1979 (Royal Lytham St. Annes, T17th with Lee Trevino). He also qualified for the 1984 Open at St. Andrews, making the cut for the third time but having to withdraw due to ill health at the start of round 3.
McEvoy also played in three Masters. In 1978, paired with Tom Watson to start with, he became just the second GB&I amateur to make the cut at The Masters (after Joe Carr in 1967). He finished 53rd after rounds of 73, 75, 77 and 77, last of those that made the cut. He perhaps surprisingly remains the last GB&I amateur to make the cut at The Masters. With the Augusta course becoming longer and tougher in recent years this GB&I record may well remain intact for a few more years to come. In his other two appearances, he missed the cut; in 1979 paired with Jack Nicklaus he shot 79, 79 missing out by 13-shots and in 1980 paired with Sam Snead he scored 79,76 missing out by 9-shots.
Despite not winning the English Amateur – he lost in the 1980 final to Peter Deeble – his name unsurprisingly adorns many of the other major amateur trophies. He won the:
Duncan Putter – 1978 (winning by 13-strokes)-80-85-87

Scrutton Jug – 1978-80

Lytham Trophy – 1979

Selborne Salver 1979-80

Brabazon Trophy (English Open SP) – 1980 (tied with Ronan Rafferty),

Lagonda Trophy – 1980

West of England Open Amateur Strokeplay Championship – 1977-80-83-85

English County Champions' Tournament – 1984 (tied with N Briggs)

Berkshire Trophy – 1985

Berkhamsted Trophy – 1986

Logan Trophy (English Open Mid-Amateur) – 1988

Hampshire Hog – 1989
Of course prior to the 1990s amateur golf was in a completely different place to where it is now. Golfers received no individual financial support from either their National Unions or the R&A. Having to personally fund ones living and golfing expenses whilst maintaining a competitive game was clearly no mean achievement.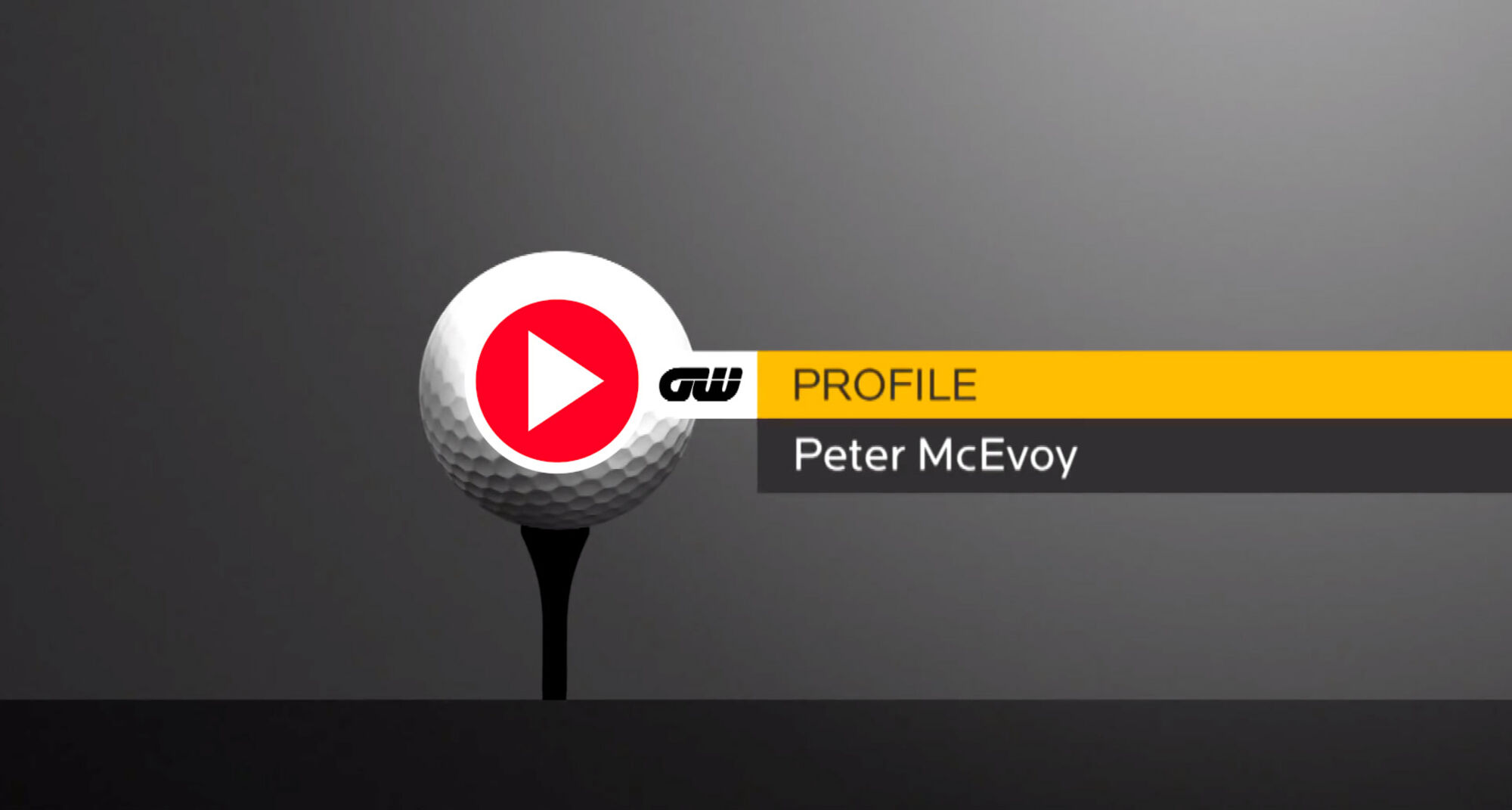 Peter McEvoy is England's second most capped amateur golfer, competing in 153 matches between 1976 and 1992. Gary Wolstenholme achieved an astonishing 218 caps whilst Sir Michael Bonallack made 131 appearances for their shared country. He played in the Home Internationals of 1976-77-78-(79 not held)-80-81-83-84-85-86-87-88-89-91. England won in 1977-78-80-84-85-88-89. He went on to captain the team between 1994 and 1997, winning on each occasion. He holds the record for the highest win ratio (67.3%) of any British amateur golfer, playing 153 matches and winning 103 of them – he halved 16 and lost just 34 of the remaining ones. He amazingly lost just once in his first 30 singles matches.
He met his first wife Dee at the 1978 Masters in Augusta and they married in the following December. They divorced in 1993 having had two boys, Cameron and Richard. His waning powers, the fact many of his original peers had moved on and the inevitable stress of the break-up led to Peter stepping back from top-level amateur competition in 1992. He met Helen, a recent divorcee herself with a daughter, Mary, shortly afterwards and eventually re-married in 1995.
Following his Amateur Championship victories his club, Copt Heath, invited Peter to suggest a way in which they could commemorate his achievements. He suggested a 72 hole competition – to be played over two days – for Under 18 junior boy golfers, to be held annually at Copt Heath. Starting in 1981, The Peter McEvoy Trophy, has become the traditional curtain raiser to the boy's golf season and is now viewed as one of the "must enter" junior major competitions. Past winners include Peter Baker (1983), Lee Westwood (1991), Brian Davis (1992), Steve Webster (1993) and Justin Rose (1998).
Captains winning teams
Peter subsequently enjoyed huge success as a Team Captain, leading GB&I to famous Walker Cup wins at Nairn (1999) and Sea Island, Georgia (2001). Both victories came by a score of 15-9 and were the first time GB&I had recorded consecutive wins in the event. He famously engaged Saatchi & Saatchi to produce a video ahead of the 1999 match to motivate his team and in 2001 handed out each player's sweater in the team room, re-enforcing each member's playing record in front of them all. He also captained GB&I to victory in the 1998 Eisenhower Trophy in Santiago, Chile. He is the only person to win the individual event as a player, the team event as a player, and the team event as a captain. He also captained again in 2000, and GB&I finished in second place. In 2002, when the home nations started to compete individually he captained the first England team.
In 2002, McEvoy was named Chairman of the R&A Selection Committee, responsible for the selection of the GB&I teams competing in various international events. Between 2008 and 2015 he was responsible for the GB&I Boys Team and manager of the Jacques Léglise Trophy team. He appears to enjoy this role, in many respects viewing junior golf as the only true amateur game remaining.
He has been appointed Captain of the Europe Team for the 2020 Bonallack Trophy men's match against Asia-Pacific.
Whilst a message few young players want to here he rightly continues to caution against juniors committing all of their energies to golf too soon, saying in an interview in Golf International magazine – for which he wrote a column for many years – in 2010: "the majority of the young golfers who (turn Pro) have no chance of making any money. They get to their mid-20s only to discover they are just not good enough at golf, they have no education and they get lost to the game. It's a vicious circle: they become disenchanted with it all, so their golf suffers, and they suffer as individuals as well". His view, based on years of experience, is that few really appreciate the huge gulf that exists between the elite amateur game and the professional ranks. He added more recently: "There's not much room in the pro game for youngsters coming through. You've got to be exceptional". The fact anyone can turn Pro rather than being selected or passing some qualification level appears to frustrate him as does the draconian rules applying to amateur status which only encourages players to make the move too early.
Golf course design and administration
Peter McEvoy has also been involved with golf course design and re-modelling for over 25 years, with his own company, Sporting Concepts (originally a management agency), and in collaboration with others (such as Craig Cooke, Ricky Willison and Bruce Weller). Amongst a number of projects, many in Ireland, he originally designed Fota Island, which has hosted the Irish Open, and notably built a short hickory course, Kingarrock GC, near St. Andrews, where appropriate clubs and balls are provided to players.
Awards
He has personally been honoured by the The Association of Golf Writers on two occasions. In 1978 he won The Golf Writers' Trophy, "awarded each year to the individual, born or resident in Europe, or the European team, who have made the most outstanding contribution to golf in the preceding 12 months". In 2001 the same award was given to the victorious 2001 Walker Cup team which he captained. More recently in 2009 he received the prestigious Association of Golf Writers' Award for his outstanding services to the game.
The English Golf Union (now England Golf) named Peter McEvoy the winner of their 1999 Gerald Micklem Award. This honour is given to those who have "made an outstanding contribution to further the interests of amateur golf in England".
Peter McEvoy was also named an Officer of the Order of the British Empire (OBE) in the 2003 Queen's New Year's Honours List, for "services to golf".
Peter McEvoy clearly loves the game of golf and the amateur game in GB&I has been fortunate to have him as a leading figure. Golf has been at the centre of his life for 50 years and his contribution as an elite player, captain (perhaps the best golf captain, pro or amateur, ever), administrator, coach, course designer and journalist / writer is probably without parallel. Let's hope he continues to support the GB&I amateur game for many more years to come where his knowledge and experience are clearly irreplaceable.
Content courtesy of Mark Eley. All rights reserved.